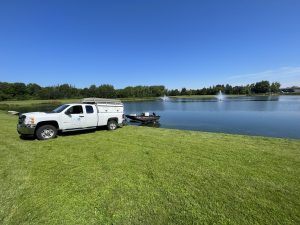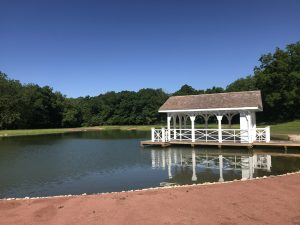 Serving Wisconsin and N. Illinois including Appleton, Fond du Lac, Green Bay, Janesville, Madison, Milwaukee, Oshkosh, Rockford, Waupaca, Woodstock, and all surrounding communities.
An on-site consultation provides us the most valuable information in determining an appropriate management strategy. Our service for Wisconsin and N. Illinois customers includes a thorough investigation of the water body including dissolved oxygen and temperature readings, plant/algae identification, acreage measurement (using air photos, GPS, and laser range finders), depth assessment, and soft sediment accumulation. Recommendations are given on site and a management plan and proposal are sent out within the week. Lake and Pond Solutions, LLC staff will stay on site with the customer until all questions are answered! Please call or email your closest office for pricing and availability.
We use air photos to assist us in determining characteristics of ponds (notice the submerged island on the east side of this subdivision pond).
Air Photo Analysis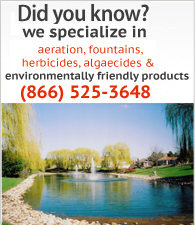 Lake and Pond Solutions, LLC Store
Lake and Pond Solutions offers a complete line of environmentally friendly products including aeration, fountains, herbicides, algaecides and more.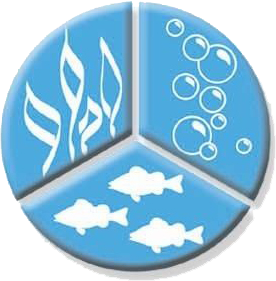 Contacting Lake and Pond Solutions, LLC
View Our Team and contact a specific biologist or call toll free at 866-525-3648
Office Locations
NORTHERN WI OFFICE
N1025 Julius Dr.
Greenville, WI 54942
866-525-3648 (toll free)
920-757-9447 (local)
SOUTHERN WI OFFICE
W4950 County Highway A
Elkhorn, WI 53121
866-525-3489 (toll free)
262-742-2600 (local)